Civil Service Exams

Civil Service Exam Syllabus

Study Materials

Download Forms

Batch Details

FAQS

Interview Tips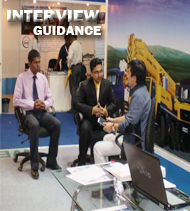 Interview Tips
Fresh weekly batches will start on every Monday after the announcement of RESULTS OF CIVIL SERVICES MAIN EXAM. The programme will focus on a candidate's presentation skills and current affairs. Two mock interview for every candidate.

Interview Guidance batches for Civil Services (Main Exam), 2010 will commence from 14th March, 2011. A fresh batch for Interview Guidance will start every Monday. The sessions are scheduled from 5.30 P.M. to 7.30 P.M., daily.
The programme will be for a duration of six days, which will comprise six sittings of two hours each, from Monday to Saturday. This programme is based on tests-runs or mock interviews. Each candidate will go through two mock interviews
Please note that it is expected by the Study Circle that the candidates have been keeping in touch with Current Affairs/Events from the Main Examination onwards, besides brushing - up their optional subjects as well. The object of this programme is to polish the presentation skills of the candidates and not transfer of information, which the candidates are expected to be already conversant with. Hence, the Study Circle would be focusing more on the presentation techniques and smoothening of any rough edges.